I have already mentioned the fabulously talented Jeff Freels. He is a superb fantasy artist and has illustrated my solo Devotion to Duty and my soon to be released double solo Last of the Firien. He is also no mean game designer and his latest creation is BEAN! Possibly the simplest ever role-playing game in terms of its basic mechanics - it relies on a 2-sided dice; the bean of the game's title, to resolve conflicts, challenges etc..- but that is where the simplicity begins and ends. Jeff has done a superb job producing a completely rounded fantasy setting in just a few pages but has left room for the player's imagination to take the concept just about anywhere.
I have written a BEAN! adventure that I ran at the "Beer & Pretzels" gaming weekend in Burton-on-Trent over the weekend of 14th - 15th May and I'm pleased to say all participants seemed to enjoy themselves. See the report about the weekend here Beer &amp Pretzels day 2
BEAN! Second Edition by Jeff Freels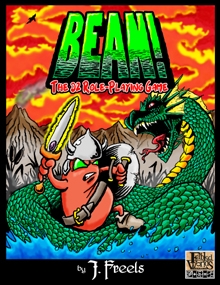 I am honoured to have had a very small input into the second edition of BEAN! Thanks for the credit Jeff even if I didn't really deserve it.
But even better I have written a solo for this great little role-play system and it is now available for all to enjoy.
It is called The Cellars of Castle Cassoulet
BEAN!2e is available from RPGNow as a pdf download and in print. It can also be found in print at Lulu. The Cellars of Castle Cassoulet can also be downloaded as a pdf at RPGNow.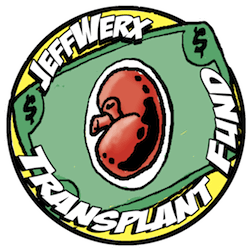 STOP PRESS. My friend Jeff has developed kidney failure and needs a transplant. You can find out more about this and how you can help him raise the money he needs by heading on over to his transplant fund page.
I cannot adequately express what a truely good guy he is and hope you will feel able to donate whatever you can to his cause.
My own contribution to Jeff's transplant fund has just come to an end - July 2011. I have harrassed my work colleagues and family to sponsor me to lose weight. I have shed 17 - 18 lbs and managed to raise in excess of $1,000. Thanks to all who contributed and once more can I urge you to give whatever you can.
I am pleased to announce that East of Fabassea, the sequel to Cellars of Castle Casssoulet has just been released in pdf format at RPGNow. Once more Jeff has taken my work and turned it into something really special with his amazing illustrations - just take a look at the brilliant front cover!
In addition, a huge BEAN! supplement, World of Bean, has just appeared in print and as a pdf at RPGNow.
This truly is a fantastic resource giving lots of detail, including amazing maps, of the planet of the Beans - or Terrafavus as it is known. As well as Jeff's vision for his fantasy world, other contributors such as 'Mad Roy' Cram and even I have helped bring it to print.
Sid Orpin (aka Darrgh Tarrrho)
November 2012
STOP PRESS. Over the weekend of 31st August - 2nd September 2013 Jeff had a combined kidney and pancreas transplant. Despite some rocky moments, he is now home and beginning the slow journey to full recovery
OCTOBER 11th 2013