T &amp T Adventures from My Adolescence
More of the maps of the T & T dungeons I wrote in my teens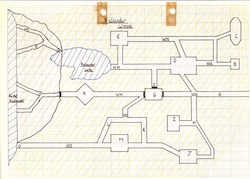 Nallander Wood. I have happy memories of coming up with the idea behind this adventure while on a family holiday. There was cricket on the tv and one of the players was called Neil Mallander. Despite being a departure from the usual cavern comlex the mechanics were much the same since delvers were not allowed to leave the path.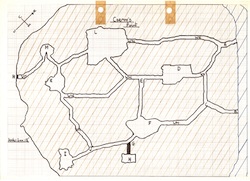 Caeron's Point Level 1. This dungeon level was a bit of an after thought as I remember but on reading through all the scenarios I can see that I was beginning to come up with situations that varied from the usual turn up and have a fight set up that most of Easterling Caves turned out to be.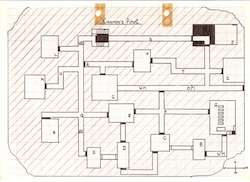 Caeron's Point Level 2. Following the success of level one I obviously felt I was on a roll and added a further level. I'm beginning to see a steady improvement in the material I was writing at this time. Far more of the different rooms and scenarios presented could be 'thought out' rather than beaten up.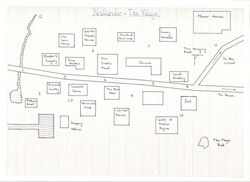 Nallander Village. I don't think this 'adventure area' as we might call it was written immediatley after the first 3 parts of the Nallander series. It is much more complex in its design. If you note the different numbers on the map they are vantage points from where a party of delvers can view buildings, the landscape or various residents of the village about their nefarious business.
More of my T &amp T adventures from Adolescence
Sid Orpin (aka Darrgh Tarrrho)
December 2010