T &amp T Adventures from My Adolescence
More of the maps of the T & T dungeons I wrote in my teens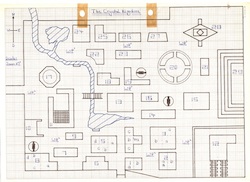 The Crystal Kingdom. I recall The Crystal Kingdom being a major undertaking trying to build a large and complex town with plenty of opportunity for social interaction and adventure. Having read through the whole of it I think I only partly managed to pull it off but it wasn't a bad effort by any means. Nice map too!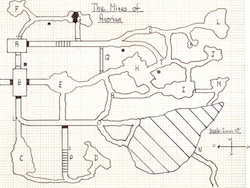 The Mines of Anorien. I don't think I could cope without there being some tunnels and caves for delvers to explore so this small complex was added along with a story thread to encourage them to head off in the right direction. The mine railway can be seen heading off south from feature '12' of the map of 'The Crystal Kingdom'.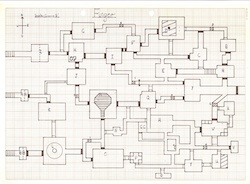 Fingor. Quite a 'busy' map to go with a similarly frantic sort of dungeon. I've included this here but it isn't part of the same adventure arc as those above. There is a distinct similarity in the style of writing and in the complexity of the scenarios presented though. The 3 exits all lead on to 'Mankwater Marshes' as a different sort of 2nd level.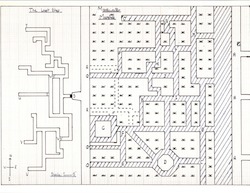 Mankwater Marshes. I honestly don't remember doing this at all. It is quite a good idea having to navigate a marsh on a punt and deal with what you come up against. However, the punt is piloted by a small demon who bears more than a passing resemblance to the one found in Michael Stackpole's 'Sewers of Oblivion'.
More of my T &amp T adventures from Adolescence
Sid Orpin (aka Darrgh Tarrrho)
December 2010